The Cascader is an advanced design saturator-coater which treats container board with wax blends on a rapid production line. The process enables the board to withstand wet conditions, field conditions, hydro coolers, arid heat, or any other extreme conditions. By applying paraffin wax to corrugated box, strength and rigity of the box increases upwards of 100%. Using two or three men, the Cascader processes up to 10 million square feet of board per month. It accommodates blanks, boxes, trays, or built up shapes up to 75 inches high and almost any length.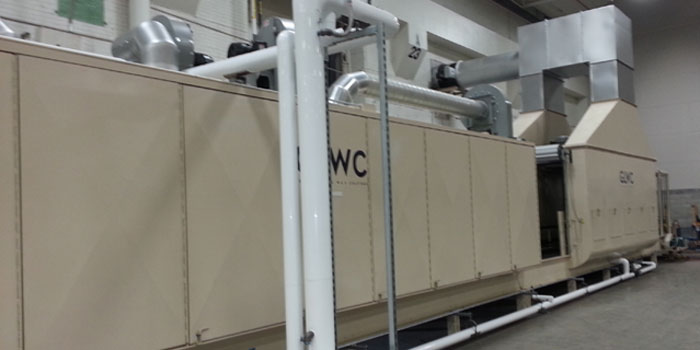 High Degree of Versatility
The Cascader produces an extremely wide array of products including nearly any mix, size, and range of box. Anything from a tri-wall to a fanfold to assembled partitions are well within its capabilities., making it the most versatile saturator-coater in the world. Every feature has been carefully engineered to provide maximum flexibility through fingertip control of critical variables such as wax flow, wax distribution, conveyor speed, and temperature.
How the Cascader Works
Container boards are fed through vertical slots with adjustable guide bands. Once the boxes are held upright using the bands, a conveyor transports them through double weirs where molten hot wax pours over the entire surface. After emerging from this patented wax bath, the boards/boxes pass under air knives through a "conditioning zone" and then under an additional set of top and bottom air knives for removal of excess wax. At the same time, the boxes are then cooled, bundled, and unitized for immediate delivery .
Dependability
Over 35 years of work and diligence has produced not only a very effective and dependable Cascader, but a finished product to match. It duplicates wax pick-ups and coverage making it easy to fix costs accurately. Furthermore, it offers many operating advantages including the opportunity to use lower viscosity waxes than are possible with other types of saturating equipment and techniques. The Cascader doesn't heat the boards to temperature above the boiling point thus moisture is not removed. Additional features include adjustable wax pick up from 38% to 55% of original board weight (depending on the type and conditions of the board used. Greater control of wax load gradient from top to bottom in the sheet, compact design, easy installation and cleaning, and minimum maintenance!
Standard Features for your Wax Cascader
20 adjustable opening
Two double weirs & air knives indivually controlled for maximum control of wax, coating weights, & distribution
Heating section(40 feet): air circulated and temperature controlled. Pressure is balanced within machine
Cooling section(40 feet): cooling section equipped with fans and air circulating system. Fans can be used for variable speeds depending on box type
Wax system includes primary wax supply tank with wax pump.
Primary & secondary heat exchangers, double strainers, float switch to insure accurate level of wax
Air guage operated controller used to control wax temperature
Variable speed drive for operating speed equipped with torque control
All electrical components(440v 3 phase), starters etc, controls and lights(110 v)
Also included is all wiring, piping etc in the machine and between the primary tank* Duct work, piping, wiring, to or from the machine are not included, nor is labor to set up cost
Dimensions (WAM Cascader)
Length: 80'
Width:8'2"
Height:16'
Accomodation for Boxes:6'
*Primary tank included 10' long 4'wide 2'8" high